Free Trial of Unused Sources
Once you are subscribed to a plan, all your unused Sources qualify for a free 14-day trial with unlimited Events usage. A Source that has not been used to create any Pipeline yet is referred as an Unused Source. You can create unlimited Pipelines with one or more such Sources during the free Source trial period for free. Any charges imposed by the Destination, however, would apply as usual.
You can filter your unused Sources by clicking on the Unused Sources category in the left navigation bar or the unused Sources link in the banner in the Select Source Type page.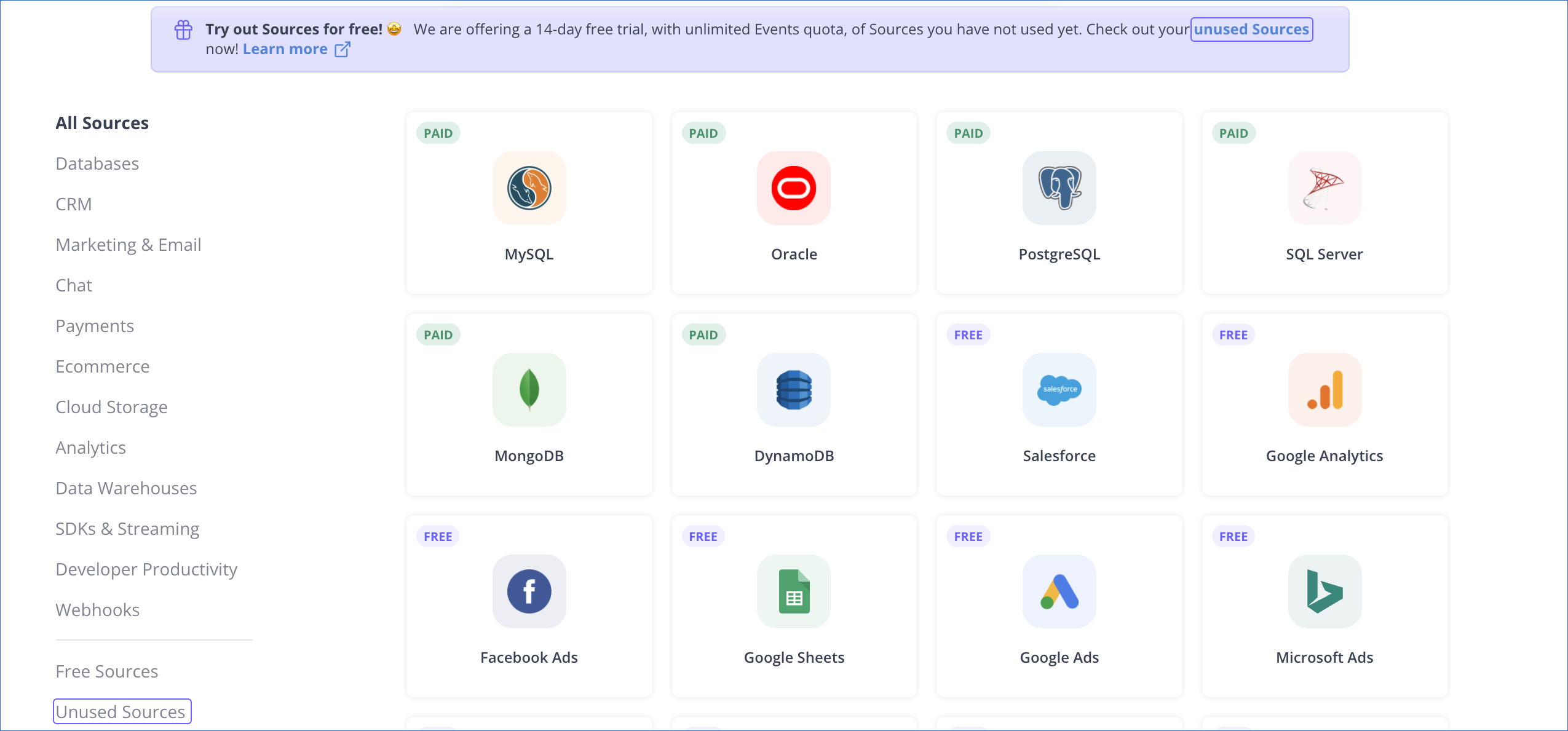 The unused Sources already under free trial are identifiable through the ONGOING TRIAL badge.

For Pipelines created with such Sources, the Free Trial badge is displayed along with the Pipeline number.
---
Events Usage for Free Source Trial
Events loaded by Pipelines created with Sources under free trial are not counted towards your monthly Events quota.
---
Free Source Trial Expiry Alerts
Hevo starts notifying you about the upcoming expiry of your Source trial seven days prior to the trial expiry date. You are also informed of the options available to you for continuing with your Pipelines.

---
Post-Free Source Trial Expiry
Once your 14-day free trial of an unused Source is over:
If you are a paid plan user: Hevo counts the Events loaded by the Pipeline from the 15th day onward towards your monthly Events quota consumption. If this causes your Events quota to exceed the plan limit, the Events are sidelined. You can either upgrade your plan at that time or purchase On-Demand Events to continue ingesting the data.

If you are on a Free plan:

Events loaded by Pipelines created with free Sources start counting towards your monthly Events quota consumption.

Pipelines created with paid Sources are paused.

At that time, you can either delete the Pipeline or upgrade to a paid plan.
---
Revision History
Refer to the following table for the list of key updates made to this page:
| Date | Release | Description of Change |
| --- | --- | --- |
| Mar-21-2022 | NA | New document. |
Last updated on
22 Mar 2022