Pricing Plans
Hevo offers you the following paid subscriptions or pricing plans. If you are currently a Trial user, the paid subscription becomes effective from the day your Trial subscription ends. You can also select the pricing plan upon expiry of the trial period. Hevo offers you both, Monthly and Yearly billing options. Read more about Pricing Plans.
| Plan | Plan Details | Included Events |
| --- | --- | --- |
| Basic | Includes up to 2 Sources and 10 Data Models | 20 million/month (fixed) |
| Starter | Includes up to 5 Sources and 25 Data Models | up to 300 million/month |
| Business | Includes up to 10 Sources and 50 Data Models | up to 1 billion/month |
Starter and Business plan costs consider 50M and 400M Events, respectively. Use the slider to increase this quota based on your expected consumption. The bill plan cost is adjusted accordingly.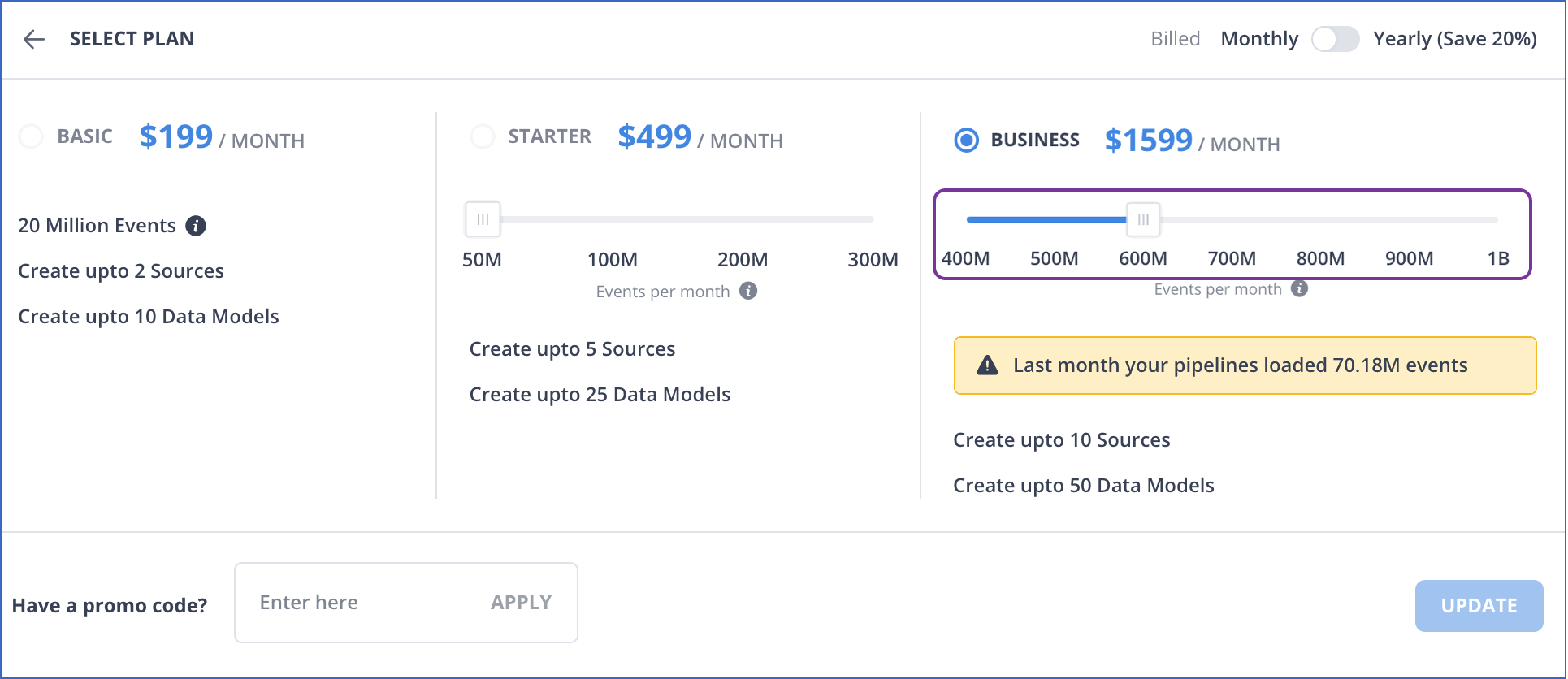 Hevo also offers custom plans to fit users' requirements. To opt for it, click CUSTOM PLAN on the Pricing page. This option is available only during first time plan selection.
Users on Legacy Pricing Plans
If you are subscribed to an older pricing plan, you will continue to receive a monthly bill for any overages in the Events processed for that month. If you decide to upgrade to the new pricing plan, your overage subscription will be cancelled, and instead, you must purchase On-Demand Events for usage beyond the base quota.
Viewing Current Usage
You can view the number of Events, Sources, and Models you are consuming in the PLAN DETAILS page within Billing.

Counting Sources for Billing
For billing purposes, the number of Sources are calculated as the total number of unique instances across all Sources that you have consumed. Therefore, whether you have five Pipelines with unique database hostnames (or IP addresses) for the same MySQL database or five Pipelines with one database hostname each for MySQL, Aurora MySQL, Postgres, Oracle, and Azure SQL databases, both are counted as five Sources. See Counting Sources for Billing to know how a unique instance is identified in Hevo for each Source.
Calculating Usage for Billing
Hevo charges you based on the selected pricing plan and Add-Ons and On-Demand Events you may have purchased, irrespective of whether you are consuming the full capacity of these plans or not. If you unsubscribe from the plan, Hevo refunds you the adjusted amount based on the time remaining in the subscription. If you exceed the number of Events allowed in your plan, one of the following apply:
If you are on an older pricing plan, you are charged as per the related overage plan.
If you are on the new pricing plan (Release 1.48 onwards), the excess Events are parked in the Replay queue till you upgrade your plan or purchase On-Demand Events.
Similarly, if you have used up the Sources and Models allowed in your plan, you need to either upgrade to a higher plan or add more Sources and Models to the base plan.
You can augment your base plan by Purchasing Additional Models, Sources and Events.
---
See Also
Last updated on
08 Oct 2020