SQL Server
SQL Server is Microsoft's offering of a relational database management system which is used by 98 of 100 Fortune 100 companies. Hevo supports replicating data from SQL Servers either hosted on-premises or hosted in the Azure cloud. The supported versions include SQL Server 2008 and later.
Hevo supports the following variations of SQL Server as a Source:
Click each variant above to know the prerequisites and pre-configuration setups specific to it. Once you complete the setups, follow the steps mentioned below to configure it as a Source in your Hevo Pipeline and start ingesting data.
---
Select the Source Type
To select MS SQL as the Source:
Click PIPELINES in the Asset Palette.

Click + CREATE in the Pipelines List View.

In the Select Source Type page, select the MS SQL Server variant.
---
Select the Pipeline Mode
Pipeline Mode defines how you want Hevo to read your data from SQL Server source. This can be Custom SQL, Change Tracking, or Table.
Read Pipeline Modes.
For Pipeline mode as Table, refer to Object Settings below to configure the objects to be replicated.
---
Specify MS SQL Connection Settings
In the Configure your Source page, specify the following::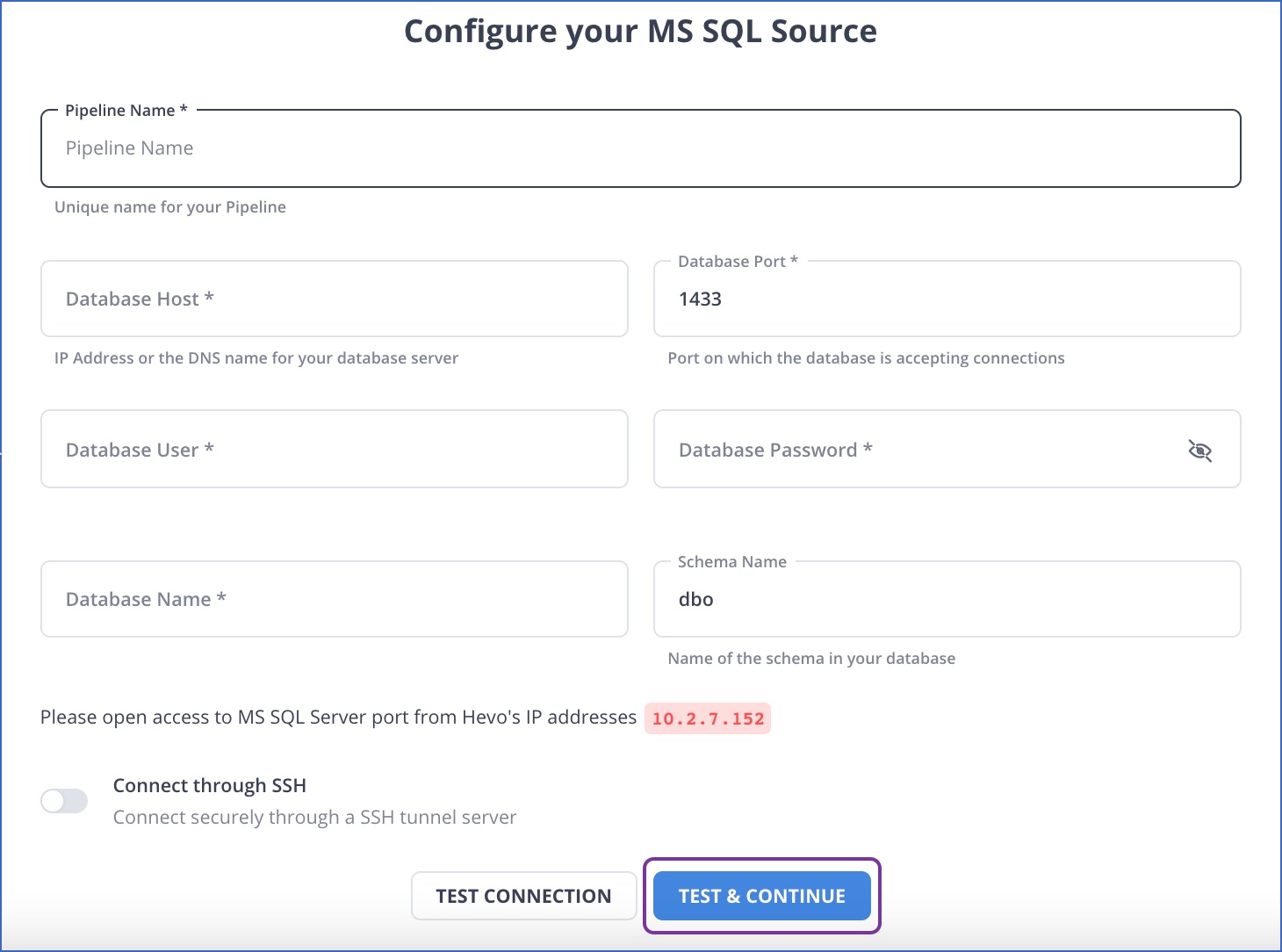 Pipeline Name: A unique name for the Pipeline.

SQL Server Host: SQL Server host's IP address or DNS.

The following table lists few examples of SQL Server host:

| Variant | Host |
| --- | --- |
| Amazon RDS MS SQL | ms-sql-server-1.xxxxx.rds.amazonaws.com |
| Azure MS SQL | mssql.database.windows.net |
| Generic MS SQL | 10.123.10.001 or mssql.westeros.inc |
| Google Cloud SQL Server | 35.220.150.0 |

SQL Server Port: The port on which your SQL Server is listening for connections. Default value: 1433.

SQL Server User: The read-only user that can read the tables in your database.

SQL Server Password: Password for the read-only user.

Database Name: The database that you wish to replicate.

Schema Name: The schema that holds the tables to be replicated. Default value: dbo.

If you want to connect to Hevo using an SSH tunnel, check Connecting Through SSH. Else, you will have to whitelist Hevo's IP addresses as listed here.
---
Object Settings
Object settings must be configured if the Pipeline mode is Table. To do this:
After specifying the Source settings above, in the SELECT OBJECTS YOU WANT TO REPLICATE page, select the objects to be replicated.

Note: Each object represents a table in your database.

In the CONFIGURE SOURCE OBJECTS page, specify the query mode to be used for each selected object.
---
Revision History
Refer to the following table for the list of key updates made to the page:
Last updated on
29 Mar 2021