Amazon Aurora
Hevo can load data from any of your Pipelines into an Amazon Aurora MySQL database. Follow the steps in this page to configure Amazon Aurora MySQL as a Destination.
We do not recommend using an Amazon Aurora MySQL Destination for building your production Pipelines. It can perform poorly even for low volumes of data. If you run into performance issues, these may be unresolvable, and you will have to migrate to a different Destination.
---
Add Destination
Do one of the following:
After you configure the Source during Pipeline creation, click ADD DESTINATION.

Click DESTINATIONS in the Asset Palette, and then, click + CREATE in the Destination List View.
---
Select the Destination Type
In the Add Destination page, select Amazon Aurora MySQL.
Alternatively, use the Search Destination Type search box to search for the Destination.
---
Configure Amazon Aurora MySQL Connection Settings
Specify the following settings in the Configure your Amazon Aurora MySQL Destination page: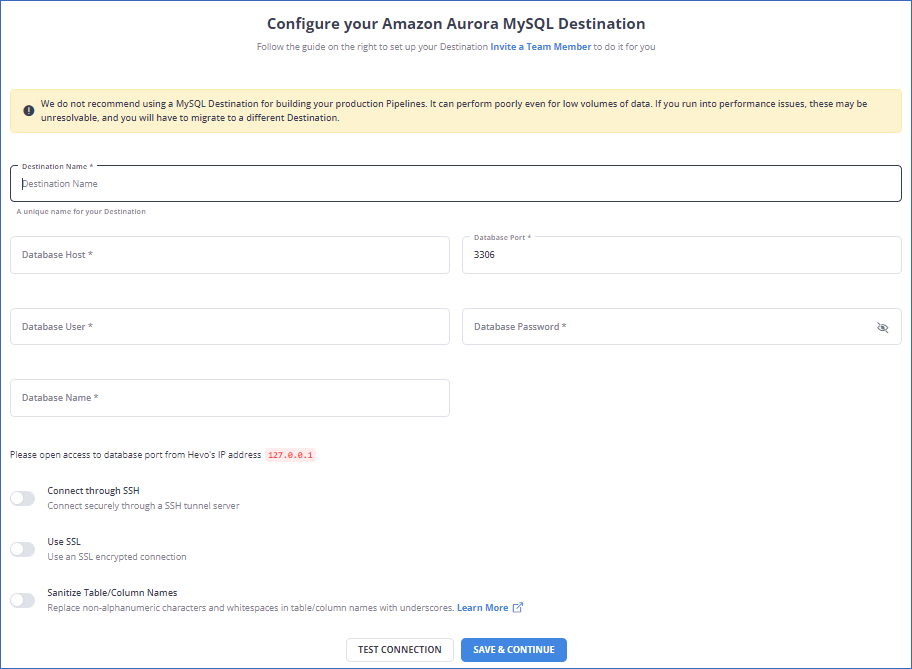 Destination Name: A unique name for your Destination.

Database Host: Amazon Aurora MySQL host's IP address or DNS.

Database Port: The port on which your Aurora server listens for connections. Default value: 3306

Database User: A user with a non-administrative role in the Amazon Aurora MySQL database.

Database Password: The password of the user.

Database Name: The name of the Destination database where data will be loaded.

Additional Settings:

Connect through SSH: Enable this option to connect to Hevo using an SSH tunnel, instead of directly connecting your Amazon Aurora MySQL database host to Hevo. This provides an additional level of security to your database by not exposing your MySQL setup to the public. Read Connecting Through SSH.

If this option is disabled, you must whitelist Hevo's IP addresses. Refer to the content for your Amazon Aurora MySQL variant for steps to do this.

Use SSL: Enable this option to use an SSL encrypted connection. Specify the following:

CA File: The file containing the SSL server certificate authority (CA).

Client Certificate: The client public key certificate file.

Client Key: The client private key file.

For the steps to create the required files and keys, read Amazon Aurora MySQL.

Sanitize Table/Column Names?: Enable this option to remove all non-alphanumeric characters and spaces in a table or column name, and replace them with an underscore (_). Read Name Sanitization.
---
Test Connection
After filling the details, click on TEST CONNECTION button to test connectivity to the Destination Aurora server.
---
Save Destination
Once the test is successful, save the Destination by clicking on SAVE DESTINATION.
---
Destination Considerations
You must disable any foreign keys defined in the target tables. Foreign keys do not allow data to be loaded until the reference table has a corresponding key defined.
---
Limitations
Hevo replicates a maximum of 4096 columns to each Amazon Aurora MySQL table, of which, six are Hevo-reserved metadata columns used during data replication. Therefore, your Pipeline can replicate up to 4090 (4096-6) columns for each table.
---
Revision History
Refer to the following table for the list of key updates made to this page:
Last updated on
09 May 2022