Magento
Magento empowers thousands of retailers and brands with the best eCommerce platform and flexible cloud solutions to rapidly innovate and grow. It offers marketing, search engine optimization, and catalog-management tools.
Magento Platform uses MySQL database as an underlying data store. Hevo connects directly to Magento's MySQL database rather than connecting through the APIs. This approach ensures most comprehensive coverage in terms of data and more reliability.
You can replicate the Events data from your Magento account to a Destination database or Data Warehouse using Hevo Pipelines.
---
Prerequisites
---
Perform the following steps to configure Magento via MySQL as the Source in your Pipeline. You must provide details of the MySQL database to configure the Magento Source.
Whitelist Hevo's IP Addresses
Click your MySQL variant below for steps to whitelist Hevo's IP address:
---
Grant Privileges to the User
Perform the following steps to grant the SELECT privilege to the database user:
Log in to your MySQL database instance as a root user. For example, mysql -u root -p.

Run the following command to grant SELECT privilege to the new database user:
GRANT SELECT ON *.* TO 'username'; # to grant privileges to a user with <username> as username
---
Specify MySQL Connection Settings:
Specify the following settings in the Configure your Magento via MySQL Source page: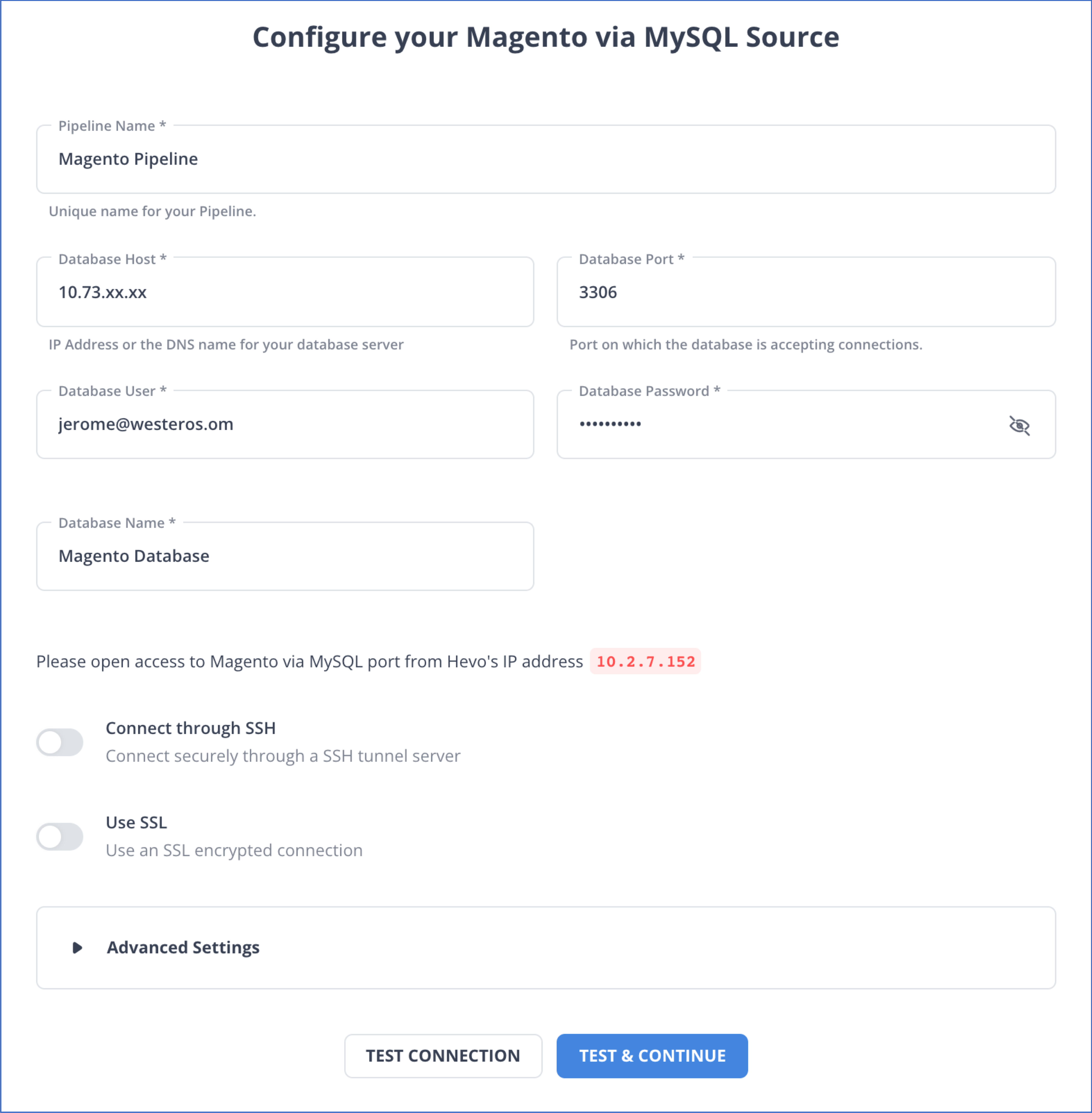 Pipeline Name: A unique name for your Pipeline.

Database Host: The MySQL host's IP address or DNS.

Note: For URL-based hostnames, exclude the http:// or https:// part. For example, if the hostname URL is http://mysql-replica.westeros.inc/, enter mysql-replica.westeros.inc.

Database Port: The port on which your MySQL server is listening for connections. Default value: 3306.

Database User: The authenticated user that can read the tables in your database.

Database Password: Password for the database user.

Database Name: The database you want to load data from, if the Pipeline mode is Table or Custom SQL.

Connection Settings

Connect through SSH: Enable this option to connect to Hevo using an SSH tunnel, instead of directly connecting your MySQL database host to Hevo. This provides an additional level of security to your database by not exposing your MySQL setup to the public. Read Connecting Through SSH.

If this option is disabled, you must whitelist Hevo's IP addresses. Refer to the content for your MySQL variant for steps to do this.

Use SSL: Enable it to use SSL encrypted connection. To enable this, specify the following:

CA File: The file containing the SSL server certificate authority (CA).

Client Certificate: The client public key certificate file.

Client Key: The client private key file.
Click TEST & CONTINUE to proceed for setting up the Destination.
---
Schema and Primary Keys
The schema is derived based on the data in your MySQL Source tables.
---
Data Model
The data model depends on the data in your MySQL Source tables.
---
Limitations
---
Revision History
Refer to the following table for the list of key updates made to this page:
| Date | Release | Description of Change |
| --- | --- | --- |
| Jan-24-2022 | 1.80 | New document. |
Last updated on
19 Aug 2022