Microsoft SQL Server
Hevo can load data from any of your pipelines into a Microsoft SQL Server database. In this document, we will walk through the steps to add Microsoft SQL Server as a Destination.
---
Prerequisites
The database user must have CREATE TABLE, ALTER, SELECT, INSERT, UPDATE and USAGE grants on the database.
---
Step 1. Add Destination
Do one of the following:
After you configure the Source during Pipeline creation, click ADD DESTINATION.

Click DESTINATIONS in the Asset Palette, and then, in the Destinations List View, click + CREATE.
---
Step 2. Select Destination Type
In the Add Destination page, select MS SQL Server.
Alternatively, use the Search Destination Type search box to search for the Destination.
Step 3. Configure MS SQL Server Connection Settings
Specify the following settings in the Configure your MS SQL Server Destination page: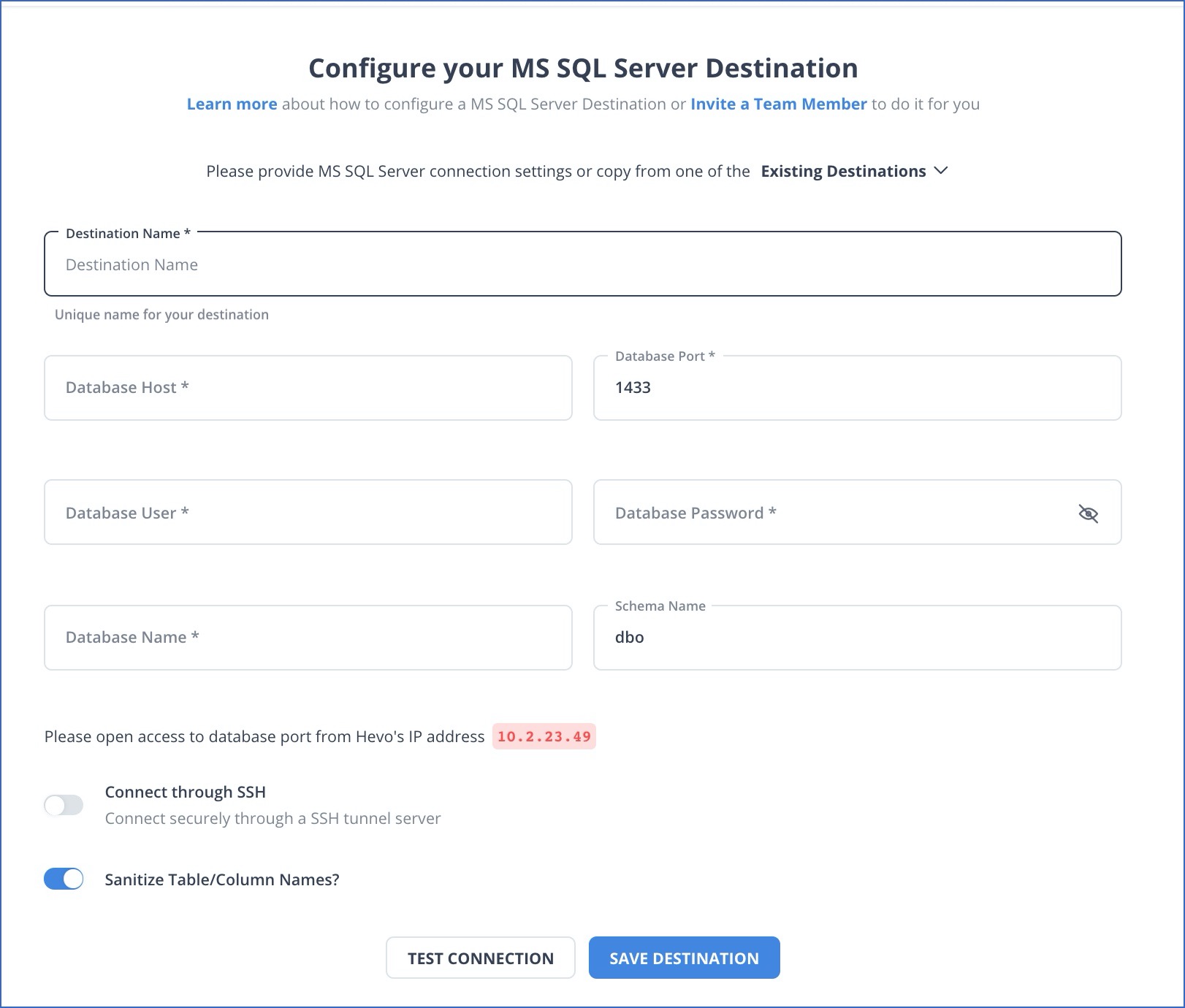 Destination Name: A unique name for this destination.
Database Host: SQL Server host's IP address or DNS.
Database Port: The port on which your SQL Server is listening for connections (default is 1433).
Database User: A user with a non-administrative role of the SQL Server database.
Database Password: Password for the user.
Database Name: Name of the destination database where data will be dumped.
Database Schema: Name of the destination database schema (Default = dbo)

Additional Settings:

Connect through SSH: Enable this option to connect to Hevo using an SSH tunnel. Read Connecting Through SSH. Else, whitelist Hevo's IP addresses for your region.

Sanitize Table/Column Names?: Enable this option to remove all non-alphanumeric characters, spaces in between the table and column names and replace them with an underscore (_). Read Name Sanitization.
Step 4. Test Connection
After filling the details, click on TEST CONNECTION button to test connectivity to the destination Postgres server.
---
Step 5. Save Connection
Once the test is successful, save the connection by clicking on SAVE DESTINATION.
---
Destination Considerations
Last updated on
13 Feb 2021