PostgreSQL
Hevo can load data from any of your Pipelines into a PostgreSQL database. Follow the steps in this page to add PostgreSQL as a Destination.
---
Prerequisites
The database user must have CREATE and USAGE schema privileges.
---
Step 1. Add Destination
Do one of the following:
After you configure the Source during Pipeline creation, click ADD DESTINATION.

Click DESTINATIONS in the Asset Palette, and then, in the Destinations List View, click + CREATE.
---
Step 2. Select Destination Type
In the Add Destination page, select PostgreSQL.
Alternatively, use the Search Destination Type search box to search for the Destination.
---
Step 3. Configure PostgreSQL Connection Settings
Specify the following settings in the Configure your PostgreSQL Destination page: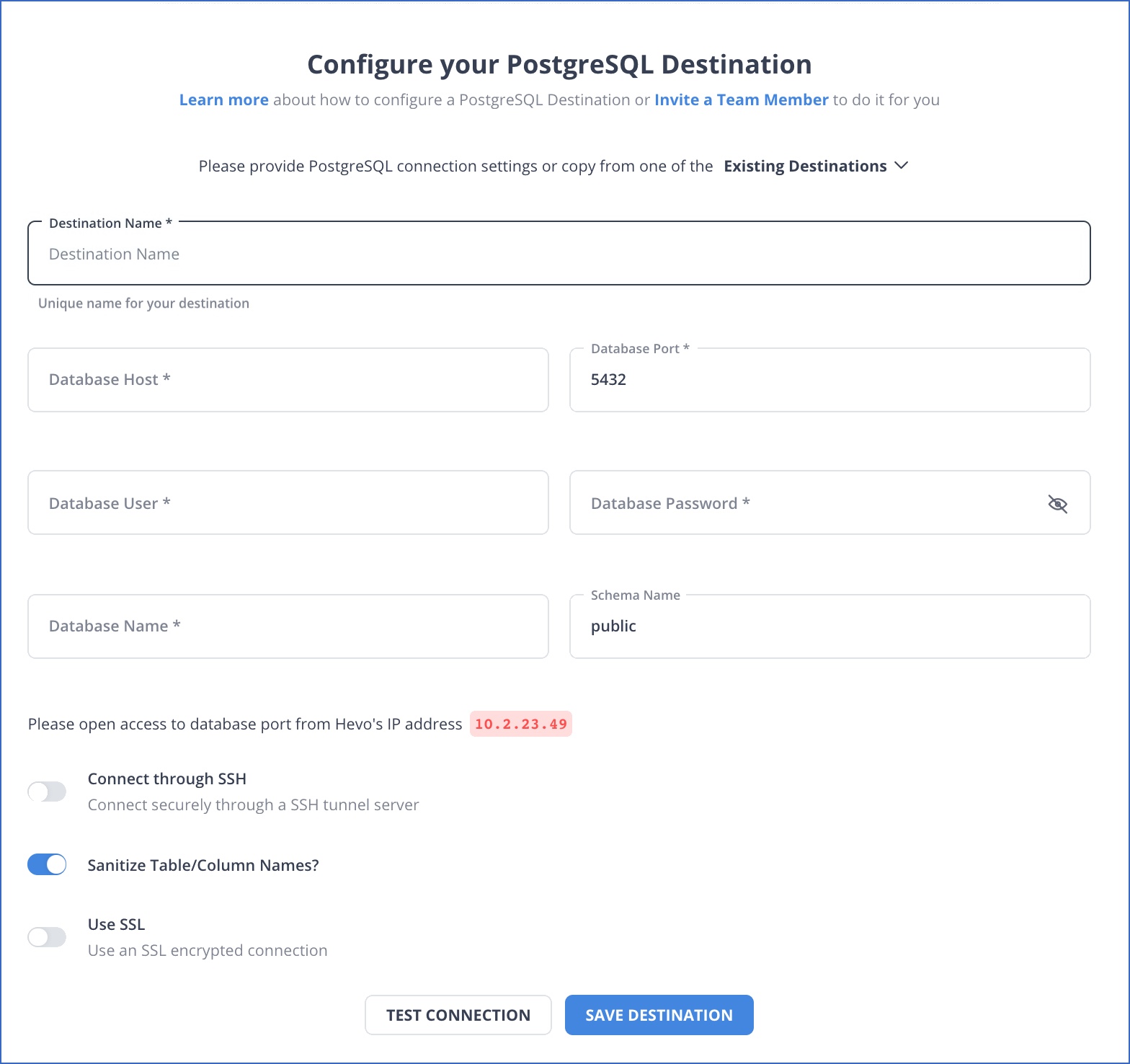 Destination Name: A unique name for this destination.
Database Host: PostgreSQL host's IP address or DNS.
Database Port: The port on which your PostgreSQL server is listening for connections (default is 5432).
Database User: A user with a non-administrative role of the PostgreSQL database.
Database Password: Password of the user.
Database Name: Name of the destination database where data will be dumped.
Database Schema: Name of the destination database schema (Default = public)

Additional Settings:

Connect through SSH: Enable this option to connect to Hevo using an SSH tunnel. Read Connecting Through SSH. Else, whitelist Hevo's IP addresses for your region.

Sanitize Table/Column Names?: Enable this option to remove all non-alphanumeric characters, spaces in between the table and column names and replace them with an underscore (_). Read Name Sanitization.

Use SSL: Enable it to use SSL encrypted connection.
Step 4. Test Connection
After filling the details, click on TEST CONNECTION button to test connectivity to the destination Postgres server.
---
Step 5. Save Connection
Once the test is successful, save the connection by clicking on SAVE DESTINATION.
---
Destination Considerations
Last updated on
13 Feb 2021